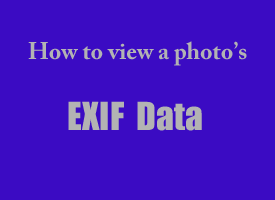 Click here to sign up for my free Rick's Tech Tips Newsletter!
---
Most modern digital cameras save some very useful information along with the JPEG images they create.
This information is called Exchangeable Image File data, or simply "EXIF data" for short.
For example, if you ever need to know the exact date and time a particular photo was taken or perhaps which camera, shutter speed or aperture was used, you'll find that info and a lot more listed in the EXIF data.
Many image editing applications will display a photo's EXIF data, but the quickest and simplest way to see it is built right in to Microsoft Windows and MacOS.
Follow the steps below to quickly view any photo's EXIF data… [Read more…]