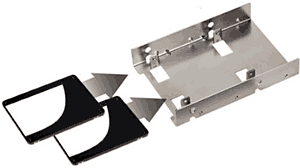 Most solid state drives sold today were designed to fit into a standard 2.5 inch drive bay.
This is perfect if you're upgrading the hard drive in your laptop to an SSD. Simply remove the hard drive and slide the SSD into it place.
But a problem arises if you're planning to add an SSD to a typical desktop computer. Most desktop PC cases don't have an empty 2.5 inch drive bay, so an adapter bracket is required in order to make it fit properly into an empty 3.5 inch bay.
A few days ago I ordered a Silverstone 3.5″ to 2 X 2.5″ Hard Drive HDD/SSD Bay Converter (#ad) that I needed in order to install a Samsung 860 QVO 1TB SSD (#ad) that was shipped to me for review.
After working with the converter I came away very impressed. [Read more…]