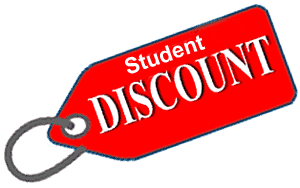 Are you a student in possession of a valid student ID card? If so, that little piece of plastic is your ticket to some awesome discounts and savings!
Our friends over at Gift Card Granny have compiled a massive list of 101 retailers, restaurants and other venues that offer discounts to current students.
What's more, the folks over at The Simple Dollar have put together their own list of 60 places where simply being a student can save you some big bucks! 
Using your student ID you can snag some great discounts on name-brand tech products, entertainment venues and products, transportation, sporting events, subscriptions and memberships, clothing items, restaurants, and more.
The discounts offered include everything from free food and drink items to cash discounts that can literally save you hundreds of dollars on selected purchases.
Click here to check out Gift Card Granny's of venues that offer student discounts.
Click here to check out the bonus list from our friends over at The Simple Dollar.
Bonus tip: Be sure to check out out the awesome Amazon Student discount program!
---
If you think your friends would like this post, I'd love you to share it! Thanks a bunch!