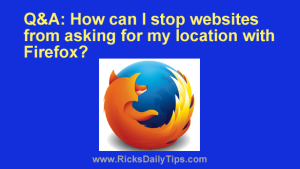 Question from Debra:  How can I prevent websites from asking for my location when using Firefox?
I hate having to answer that stupid question a dozen times a day, especially when it's for the very same sites over and over again. 
Rick's answer:
I know exactly what you mean about having that question pop up several times a day, Debra. It really is quite irritating. Luckily, it's very easy to put a stop to it.
This short video shows how to prevent websites from asking for you location when you're using Firefox.
Note: You can watch this video at full screen by clicking the little "square" icon in the lower-right corner of the video after it begins playing.
Do you prefer following written instructions? Here you go:
1 – Click the Application Menu icon in the top-right corner of the Firefox window (it looks like three horizontal lines).
2 – Scroll down and click Settings.
3 – In the left-hand pane, click Privacy & Security.
4 – In the right hand pane, scroll down to the "Permissions" section and click the Settings button on the "Location" line.
5 – Check the box beside Block new requests asking to access your location, then click Save Changes.
That's all there is to it. From now on your Firefox browser should block all websites from asking to track your location.
I hope this helps, Debra. Good luck!
Update from Debra:  Thanks Rick. I'm forever in your debt!
---