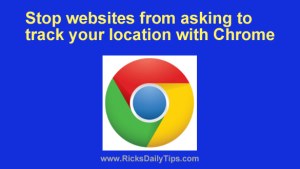 Yesterday I answered a question from a reader asking how to prevent websites from asking to track their location with Firefox.
After that post went live several other readers emailed me asking for instructions for doing the same thing with Chrome. 
As luck would have it, It's just as easy to prevent sites from asking for your location when using Chrome as it is with Firefox. The short video below shows how to make the settings change, step-by-step.
Note: You can watch this video at full screen by clicking the little "square" icon in the lower-right corner of the video after it begins playing.
Prefer following written instructions? Here you go:
1 – Click the Customize and Control icon in the top-right corner of the Chrome window (it looks like three vertical dots).
2 – Click Settings.
3 – In the left-hand pane, click Privacy and security.
4 – In the right-hand pane, click Site settings.
5 – Find the "Permissions" section and click Location.
6 – Select the radio button beside Don't allow sites to see your location.
That's all there is to it. From now on websites that you visit won't be allowed to ask to track your location.
---