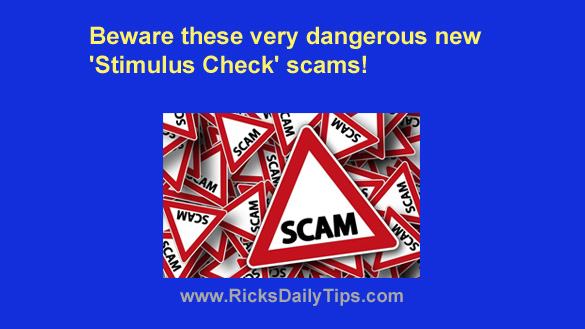 Sadly, the economic impact of the ongoing Covid pandemic has left lots of folks in dire financial straits.
And of course it's certainly understandable that people who are struggling to make it from day to day will welcome any assistance they can get.
The scammers of the world know this, and as always they're working overtime to take advantage of as many of those who are already hurting as possible.
As you have probably heard, Congress is preparing to debate a new economic stimulus package that could possibly include a direct $2,000 payment to every individual in the U.S.
Unfortunately, the scammers are already coming up with ways to steal as much of that money as they possibly can.
I've received several reports from people who have received emails and/or text messages claiming to be from companies that can people help get their stimulus payments into their bank accounts  several days sooner than they would normally arrive.
Of course in order to facilitate this "assistance" they'll need for you to provide your banking information (your bank account number and your bank's routing number).
On its face, it's easy to see that this is a massive scam.
The upcoming stimulus payments (when and if they are eventually approved) will go directly from the U.S. Treasury Department into your bank account. There is nothing that a "middle-man" could ever do to speed that process up.
The miscreants behind these schemes are simply out to trick as many people as possible into handing over their banking info so they can use it to empty out the victims' accounts.
If you receive an email or text message of this type you can rest assured that it's a scam. I recommend that you simply delete it and move on.
Whatever you do, don't click or tap on any links contained in the fraudulent message!
And finally, never forget that this old axiom still applies, and it always will…
If it sounds to good to be true, it probably is.
And I'll just add this…
If it's on the Internet, the odds of it being a scam are pretty close to 110%.
Stay alert and safe out there, my friends.
---
Never miss a tip!  Click here to sign up for my free Daily Tech Tips Email Newsletter!