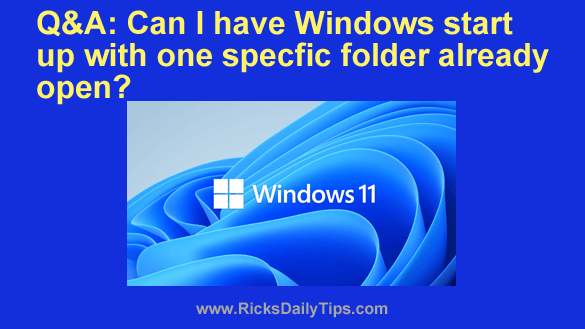 Question from Alma:  I have a computer with Windows 11 on it and I'm hoping you can answer a question for me.
Every time I use my computer I start by accessing the files in one specific folder and I keep that folder open at all times.
It's a hassle having to open File Explorer and navigate to that folder every time I turn on the computer.
It would be wonderful if I could have Windows start up every time with that folder already open so I can get right to work.
Is that possible? If it is, how do I set it up? 
Rick's answer:  Alma, you can easily force Windows 11 to always reopen all the folders that were open the last time you shut the PC down or logged out of your Windows user account.
Since you always use that one specific folder and keep it open at all times, that one specific folder will always open back up when Windows starts up (or when you log back into your Windows account).
All you have to do is change one option in the File Explorer settings. Here's how:
1 – Open a File Explorer window.
2 – Click the three dots on the right side of the top menu bar, then select Options from the menu.
3 – Select the View tab.
4 – Check the box beside Restore previous folder windows at logon.
5 – Click the OK button.
That should do the trick. Since you leave that one folder open all the time it should automatically open back up every time you boot your PC up into Windows.
Note: Just be aware that if you have other folders open when you shut down your PC, those folders will automatically open as well.
If you prefer following visual instructions, the short video below will walk you through the process detailed above.
Note: You can watch this video at full screen by clicking the little "square" icon in the lower-right corner of the video after it begins playing.
---