If you value your online privacy above all else then you'll probably enjoy using Firefox's Private Browsing mode.
Private Browsing prevents Firefox from saving any of your Internet history in its log files which in turns makes it difficult from a third party to see what you're been doing on the Internet.
Most people who use Private Browsing simply clicking the "Start Private Browsing" option on the main Firefox menu, but this only turns on Private Browsing for the current session only. But there is a simple way to instruct Firefox to turn on Private Browsing automatically every time the program is started. Here's how:
1 – Open Firefox and click the orange "Firefox" tab in the upper left-hand corner of the screen. (Refer to the screenshot below.)
2 – Don't click "Start Private Browsing". Instead, click "Options".
3  – Click the "Privacy" tab.
4 – Find the "Firefox Will:" field, then click the down arrow and select "Never remember history".
5 – Click "Ok".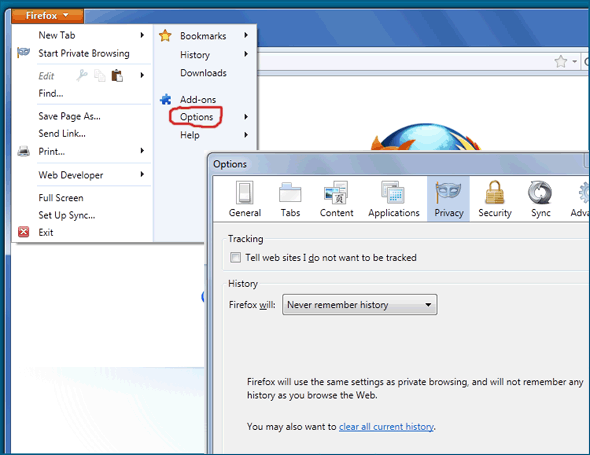 There you have it! From now on Firefox will automatically start up in Private Browsing mode ever time you open it!