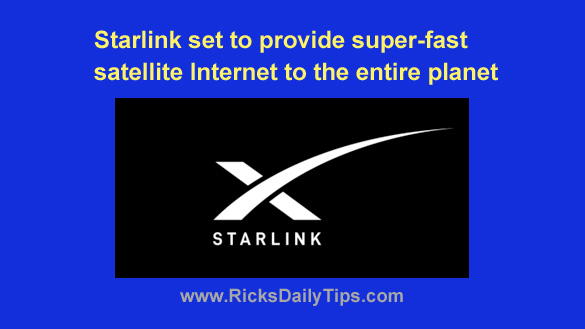 By now you're probably aware that SpaceX has become a major player in the world of space exploration with their successful collaboration on several projects with NASA.
But did you know they're also preparing to make super-high-speed Internet available to the masses, regardless of where they might happen to live?
Once completed, SpaceX's Starlink network of thousands of Internet-relaying satellites will be capable of supplying super-fast, low-latency broadband Internet to virtually any point on the Earth's surface.
Just how fast will Starlink Internet actually be?
Well, according to this SpaceX document that was recently provided to the FCC, they're promising download speeds of up to 1 Gigabit per second (1Gbps).
What's more, their tests are already seeing latency (the delay between a click or other user interaction and the response received from the remote server) that rivals anything most ground-based Internet providers currently offer.
To put that 1Gbps speed into perspective, that's five times faster than the 200Mbps that I'm currently receiving from Comcast and roughly equal to the fastest speeds currently enjoyed by most folks who are blessed to have access to a fiber Internet connection!
Pretty impressive, right?
As of today SpaceX has launched over 650 Starlink satellites into space and they're currently building 120 new satellites each month.
When the entire constellation of Starlink satellites are in place, SpaceX will be able to beam their super-fast broadband signal to virtually every point on the earth's surface.
What will this mean to you?
Well, first of all, your current Internet provider will probably have to drastically lower your monthly Internet bill AND increase the download speeds you're getting in order to compete with the Starlink service.
And second, if you're being forced to use one of the slow, expensive and bandwidth-limited satellite Internet options that are the only choices currently available to those who live out in the boonies, you'll be able to upgrade to true Internet broadband service via Starlink!
As of yet I haven't seen any pricing information or potential service options for Starlink, but given Elon Musk's ingenuity and desire to succeed I have a feeling they'll be quite competitive with all of our current Internet options.
Bottom line: Satellite Internet has a well-earned reputation of being pretty close to horrible. Starlink promises to change that – possibly as soon as late 2021!
Bonus tip: Want to make sure you never miss one of my tips? It's easy! Just…
Click here to sign up for my free Rick's Daily Tips Email Newsletter!
---
Would you like to ask Rick a tech question? If so, click here and send it in!
If you found this post useful, would you mind helping me out by sharing it? Just click one of the handy social media sharing buttons below. Thanks a bunch!