The proliferation of free Wi-Fi access points has made it a lot easier to stay connected with the online world these days. Now, finding a usable Wi-Fi hotspot is literally just as easy as finding the nearest McDonalds or other fast food joint.
But along with the convenience of free Wi-Fi comes a real and serious danger. Unsecured Wi-Fi signals make your unencrypted emails readily available to hackers and snoops, and guess where hackers and snoops just love to hang out? In establishments that offer free Wi-Fi access!
Google and Microsoft recognized this danger long ago and took measures to protect their Gmail and Hotmail accounts with SSL Encryption, but Yahoo was late coming to the game. However, to their credit they did finally did come around and make the option available to users of their extremely popular Yahoo Mail service. But the key word here is option. Instead of making SSL Encryption the default, they chose to leave it turned off and let users manually turn it on themselves.
Luckily, it's quite easy to protect your Yahoo Mail account with SSL Encryption. Here's how:
1 – Sign in to your Yahoo Mail account.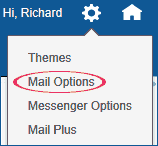 2 – Hover you mouse over the little "Gear" icon in the upper right-hand corner of the screen, then click Mail Options.
3 – Scroll to the bottom of the screen and check the box beside Turn on SSL.
4 – Scroll back to the top of the screen and click Save.

From now on all of your Yahoo Email messages will be encrypted and protected from prying eyes, even when sent over an unsecured Wi-Fi connection.