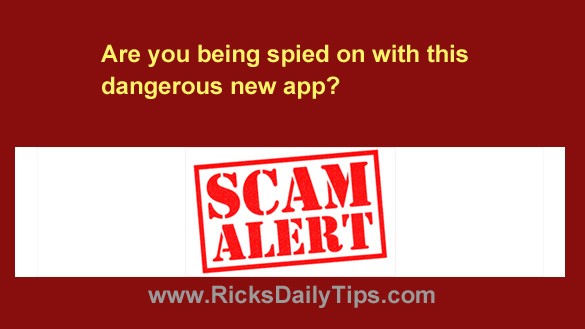 Do you have a jealous ex who always seems to know exactly what you've been doing, who you've been doing it with, and where you've been?
Are you being stalked but you can't figure out how the stalker is managing to keep such a close eye on you without getting caught?
Well, your stalker could be using a new "spy" app that was released back in July to keep tabs on your whereabouts and activities.
The thing is, this app doesn't even have to be installed on YOUR phone in order to work!
I won't name the app or link to its download page in this post because I don't want anyone reading this to download it and use it to spy on someone.
Just know that it's out there and that it's become one of the most popular apps on the market in just two months.
If you're wondering how the app works, here's the gist of it…
First, the person wanting to keep tabs on you purchases the app and installs it on their phone.
Next, they find someone you work with, go to school with, or simply hang out with and try to talk them into installing the app on their phone so the stalker can use the accomplice's phone to remotely spy on you – usually in return for cash or some other form of payment.
After the two of them initiate a virtual connection between their devices, the camera in the accomplice's phone turns on and starts streaming live video back to the stalker's device.
As long as both apps remain active the stalker can see everything that's happening at your location via the camera in the accomplice's phone.
Here's what you need to do if you have reason to believe this might be happening to you:
1 – The next time you're out and about, casually look around to see if anyone is using their phone in your vicinity.
Bear in mind that the person "spying" on you could be doing so from across the street or from the other side of a ball field. All that's required is for the "spy" phone to be able to see you.
2 – If you're indoors with other people, see if you can spot someone paying extra attention to you and trying their best to keep facing you at all times.
Keep in mind that the person doing the remote spying on behalf of the stalker doesn't necessarily have to be holding their phone in their hands for it to work.
They could simply have their phone tucked into a shirt pocket or even a bra strap since the app will work as long as the camera lens is uncovered.
3 – If you're able to determine who is probably doing the actual spying (via their phone) you can start looking for them in other places.
If they often seem to be in the same general area as you and always seem to be looking in your general direction, that means you've probably found the culprit.
What to do at that point is up to you. Everyone knows their own situations and the people they interact with best so only you know how best to handle a situation like this.
All I'll say in regards to that is BE CAREFUL. It would be extremely easy to ruin a good friendship by accusing someone of spying on you if they aren't really doing it.
It would also be easy to get yourself hurt if you confront someone who is really nasty and dangerous.
In other words, take extreme care when deciding whether (and how) to confront someone over this. Just sayin'.
And now, one last note…
It appears that this particular app has finally been removed from both the Google and Apple app stores. However, it's still available for download from the app's website.
What's more, there are several other "spy" apps out there besides this one. That means even if this one somehow manages to get shut down completely the danger won't go away.
Always remain diligent and stay safe!
---
Never miss a tip!  Click here to sign up for my free Daily Tech Tips Email Newsletter!