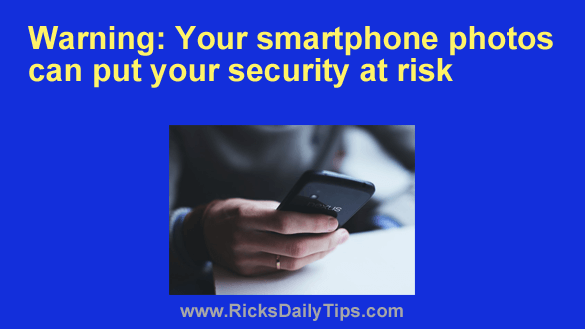 Did you know that by default, every photo you take with your smartphone has the location where the photo was taken added to the photo's metadata?
That means anyone who manages to view one of  your photos can easily find out exactly where that photo was taken.
For most people this isn't a concern because they only share their personal photos with family members and friends. After all, most of those folks will likely know where you live and work anyway, right?

The above being said, here are some things to consider…  
1 – Do you ever take photos of your kids at their school(s)?
If so, someone with bad intentions could view the location displayed with a photo's metadata to find out which school that child goes to.
Unfortunately, child abductions are fairly common these days. That's all I'll say about this one.
2 – Do you have a "stalker" ex who would love to find out where you currently live or work so they can start harassing you again (or even worse)?
If so, your photos' metadata could give your location away.
3 – What if you meet someone online and the two of you start talking and sending photos back and forth, but then all of a sudden the relationship goes south in a big way?
That person could easily use your photos' location data to find out where you live, where you work, where you go to church, and more.

Now, about those family members and friends I mentioned earlier…
Of course you trust your family members and close friends not to use your location info in a way that could cause you harm, but what about the people they interact with that you don't even know?
For example, let's say you send a photo of your child singing in a school chorus recital to a relative who lives in another city. What if that person shares it with a neighbor or co-worker?
Hopefully your family member will only share your photos with people they know well and trust completely, but you just never know.
Those are just a few of the possible reasons why you might want to consider omitting the location from your photos' metadata. There are surely many others.

The choice whether or not to omit location data from your photos is yours, and yours alone…
Now I didn't say all of the above to frighten you. Like I said, for most people this will never be an issue.
I just feel it's important to let you know the risks involved with adding location data to your photos.
Now that you know, you can assess your own risk according to the way you live your own life and interact with others. If you feel comfortable with your photos having location data you won't need to do a thing.
However, if you believe this could in fact be a risk to you and your family, you can change a setting on your phone that will prevent its camera from adding location info to the photos' metadata. Just follow the instructions below for your particular device.

If you have an iPhone:
1 – Tap the Settings icon (it looks like a "gear" or "cog").
2 – Tap Privacy.
3 – Tap Location Services.
4 – Scroll down and tap Camera.
5 – Select Never.
That's all there is to it. From now on the photos you take in the future with your iPhone won't have any location info associated with them.

If you have an Android phone:
If you have an Android phone I won't be able to provide step-by-step instructions because different phones have different camera apps (which also have different Settings menus).
What you'll need to do is go through your phone's camera settings until you find the setting for disabling location data.
Just open your phone's Camera app, tap the Settings icon and then look through the available settings for a Location setting.
If you find a Location setting, turn it off. If you don't find one that means your specific phone's camera app doesn't provide an option for omitting location data from your photos.
Note: You can always prevent the camera app from adding location data to your photos by disabling location services device-wide (via the phone's primary Settings app).
Just be aware that if you do that none of the other apps that actually need location services (Google Maps, for example) will operate correctly.

Removing location info from existing photos…
If you wish to remove location info from a photo that you have already taken (before sending it to someone, for instance), you can do so. Here's how:

If you have an iPhone:
1 – Swipe up on the photo and tap the Adjust link that's displayed just below the location info.
2 – Tap No Location.

If you have an Android phone:
1 – Swipe up on the photo.
2 – Disable the location setting. The way you do that varies from phone to phone.
If you see an Edit button the location setting will likely be under that. Otherwise, the location setting might be visible as soon as you swipe up on the photo.

If you upload your smartphone photos to social media…
Here's a bit of good news. If you upload your smartphone photos to your Facebook, Instagram or Twitter account those services will automatically strip the metadata from the photos before they post them on your behalf.
That means you can safely upload any photo to one of those sites without having to worry about them giving away your location, even if that photo includes location info in its metadata when you upload it.

Bottom line: Omitting location info from your smartphone photos is one of many steps you can take to enhance your own general security and the security of those you love. It's up to you to decide if you want to do it based upon your own situation and tolerance for risk.
---