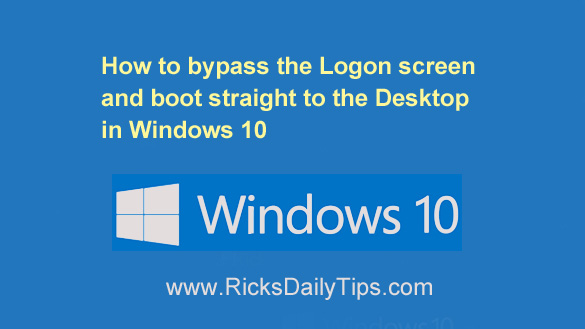 By default, Windows 10 displays a Logon Screen requesting that you enter a password before it will finish booting up into Windows, and it will display this screen even if you haven't created a password for your user account.
Dealing with the Logon Screen can be an unnecessary annoyance if you know you are the only person that will ever have access to your computer.
Luckily, Microsoft made it fairly easy to configure Windows 10 to skip the Logon Screen and have the machine boot straight to the Desktop. Here's how: 
Note: If your computer has more than one user account AND you aren't the only person who uses this machine, you might want to carefully consider whether you really want to disable the Logon Screen.
If you decide that you indeed want to disable the Logon Screen, continue with step 1 below…
1 – Press the Windows+R key combination to open a "Run" box.
2 – Type (or copy and paste) netplwiz into the Run box, then press the Enter key. The "User Accounts" dialog box will open.
3 – Click on your user name to select it, then uncheck the box beside Users must enter a user name and password to use this computer.
4 – Click Apply. The "Automatically sign in" dialog box will open.
5 – If this account has a password assigned to it, type the password into both of the password fields. If the account doesn't have a password, simply skip this step.
6 – Click OK, then click OK again.
Note: If your computer has more than one user account, you'll need to repeat this procedure for each of the remaining users that wish to bypass the Logon Screen.
If none of the user accounts are set to require a password in order to boot into Windows, the system will automatically log into the account that was active when the machine was last shut down.
In that case if a different user wants to log into their account they'll have to press the Windows+L key combination to exit the current account and log into theirs..
That's all there is to it. After you have completed the steps listed above your computer will skip the Logon Screen and boot straight into Windows (shaving a bit off your PC's boot time).
Bonus tip #1: This post explains how to free up a little extra room on the taskbar in Windows 10 by hiding the 'Search Box' and 'Task View' buttons.
Bonus tip #2: Want to make sure you never miss one of my tips? It's easy! Just…
Click here to sign up for my free Rick's Daily Tips Email Newsletter!
---
Would you like to ask Rick a tech question? If so, click here and send it in!
If you found this post useful, would you mind helping me out by sharing it? Just click one of the handy social media sharing buttons below. Thanks a bunch!