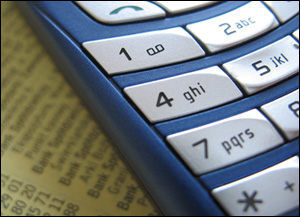 If you're like me you probably hate calling someone who doesn't answer, especially if you need to leave a message.
Before you get to that magic beep, you first have to wait while the voice mail system plays the recipient's personal greeting, and then you have to listen for another eternity while it tells you how to leave a message.
If you're wondering why all the major cell carriers require us to listen to the same boring voice mail instructions over and over again before allowing us to leave a simple message, it's because it makes them a ton of money! 
Customers with plans that allot only a certain number of monthly voice minutes typically end up using a good chunk of their minutes every month waiting for the magic beep that tells them they can finally begin leaving their message.
If you find this as irritating as I do, you can easily bypass both the recipient's personal greeting and the carrier's insipid voice mail instructions. How? By simply pressing the magic button on your phone just as soon as you begin hearing the personal greeting.
The magic button you need to press varies by carrier, but it's pretty easy to remember. If the recipient's carrier is:
Sprint:  press 1
Verizon:  press *
AT&T or T-Mobile:  press #
Pressing the magic button immediately when the personal greeting begins to play will cause the voice mail system to skip all the time-wasting (and money grubbing) formalities and take you straight to the beep. You can then leave your voice message and hang up the phone.
Of course the trick here is knowing which magic button each carrier recognizes, but that really isn't much of an issue.
If you know ahead of time which carrier the recipient uses, simply press the corresponding button to go straight to the beep.
If you have no clue which carrier the recipient uses, start with the # button. That gives you a 50/50 chance of being right since that button is recognized by two of the four major carriers.
If the # button doesn't work, try either the 1 or the *. If that doesn't work, it has to be the last one. While it's true that the three button trial-and-error routine will waste a few seconds, you'll still save upwards of a minute by skipping the personal greeting and voice mail instructions.
Photo credit: Jarpur
---
Bonus tip: Be sure to sign up for my free RicksDailyTips Email Newsletter at the bottom of this page!
Would you mind helping me out by sharing this tip with others? Just click one of the handy social media sharing buttons below: