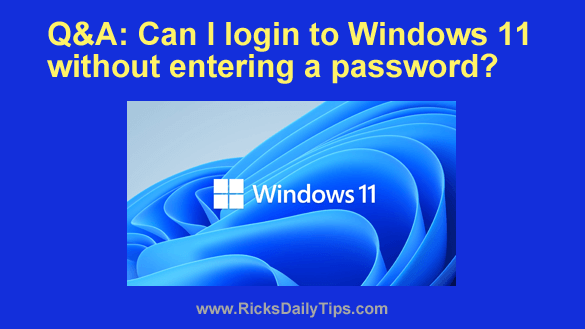 Question from Ronald:  I recently bought my first computer with Windows 11 on it.
I guess it's ok overall but there are a few things that irritate me, one of which is how it forces me to enter a password every time I turn on the computer.
I don't really need a password because I live alone and I'm the only person who has access to this computer.
Is it possible to make Windows 11 boot straight to the Desktop without needing to enter a password? If it is, can you give me simple instructions?
Rick's answer:  Ronald, you most definitely can force your Windows 11 PC to boot directly to the Desktop without having to enter a password. Just follow these steps:
1 – Click the Start button and type netplwiz into the Search box, then click on netplwiz after it pops up in the search results.
2 – Uncheck the box beside "Users must enter a user name and password to use this computer", then click Apply.
You should now see a new window titled "Automatically sign in".
3 – Enter the user name and password you use to login to your Windows account, then enter your password again for confirmation.
Note: Make sure you don't make a typo in either of the two Password fields.
If Windows can't match the stored password with the password that's actually assigned to your account you'll still be instructed to provide it before being allowed to log into your account and access the Desktop.
4 – Click OK, then restart your computer.
That's all there is to it. From now on your PC should boot directly to the Desktop without making you enter a password first.
Now that that's out of the way, I feel the need to mention this…
I certainly understand your desire to have your computer boot directly to the Desktop. That's incredibly convenient for sure. But there's one danger with that.
If someone were to break into your home and steal your computer they'll have immediate access to any sensitive information you have stored on the machine.
They'll also be able to access any online accounts that you're logged into at that time.
Just something for you to consider.
I hope this helps, Ronald. Good luck!
Update from Ronald:  This is just what I was looking for, Rick. Thank you!
---