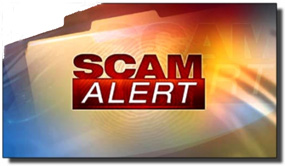 Just when I thought the scammers on Facebook have reached rock bottom, they come up with what could possibly be the most despicable scam ever.
This ugly scam makes the rounds from time to time, and unfortunately it's back again.
It always works something like this…
The scammer posts a stolen photo of a suffering child lying in a hospital bed and claims that every Like and Share will result in a donation to help the child's parents pay for a life-saving procedure that they cannot afford.
But beware, it's nothing more than a huge scam. 
These posts are designed to tug at the heartstrings and cause thousands of unsuspecting and well-intentioned Facebook users to "Like" and "Share" the posts.
After the posts goes viral and collect a ton of likes and shares the scammer swaps out the photos with different ones that are designed to either separate those same unsuspecting users from their hard-earned money or download malware onto their computers.
To add insult to injury, when you share these posts it simply spreads the scams on to your friends, their friends and beyond.
This screenshot is an example of what you need to be on the lookout for: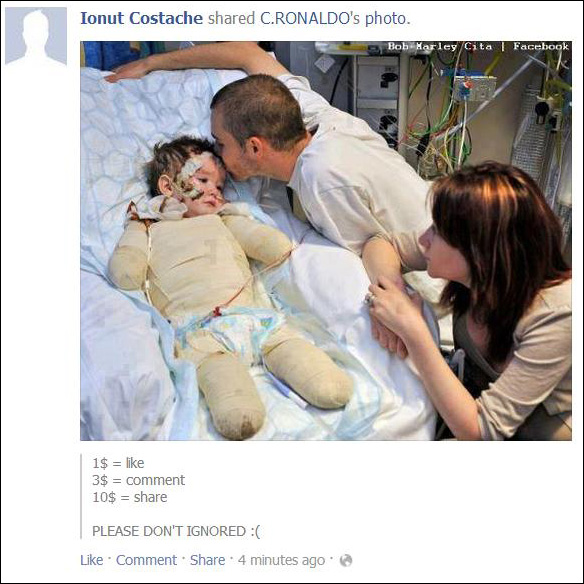 The photos used in these scams are real photos of a real children who were indeed extremely ill or gravely injured when the photos were taken.
The scammers steal these heart-rending images from legitimate websites and use them to scam Facebook users out of their hard-earned money and/or plant malware on their computers and mobile devices.
As you can see, this truly is one of the most despicable scams ever devised.
Bottom line: If you see a post like this one pop up in your Newsfeed, delete it immediately before your friends have a chance to see it and click on it.
While it's certainly commendable to feel bad for a suffering child, liking and sharing these kinds of posts doesn't help them in any way. All it does is allow the scammers to exploit them.
Bonus tip #1: Click here to learn about several other scams that are making the rounds right now.
Bonus tip #2: Want to make sure you never miss one of my tips? Click here to join my Rick's Tech Tips Facebook Group!
---
Do you have a tech question of your own for Rick? Click here and send it in!
If you found this post useful, would you mind helping me out by sharing it? Just click one of the handy social media sharing buttons below. Thanks a bunch!