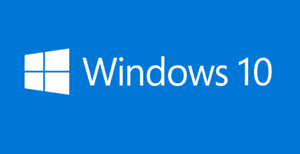 Question from Jacinda P.:  The other night I was typing away when the File Explorer window popped into view. I closed it and thought nothing of it at the time.
The problem is I must have hit something to make the Ribbon disappear in File Explorer because it's been gone ever since that night. I feel like such a dummy!
I use the ribbon a lot and I really miss it. Can you tell me how to get it back? My computer is an Acer All-In-One with Windows 10.
Rick's answer:  I can certainly relate to your predicament Jacinda. My fumble fingers are always causing all kinds of mischief by pressing the wrong keys on my keyboard.
It's actually very easy to accidentally cause something to go haywire in Windows, so there's no reason to feel bad!
Luckily, it's very easy to toggle the Ribbon back into view in File Explorer. Just follow the steps below:
Note: This works in both Windows 10 and Windows 8.1.
1 – Press the Windows+E key combination to launch the File Explorer window.
2 – Click the down arrow beside the question mark near the top right-hand corner of the window.
Here's a screenshot that shows the arrow you need to click: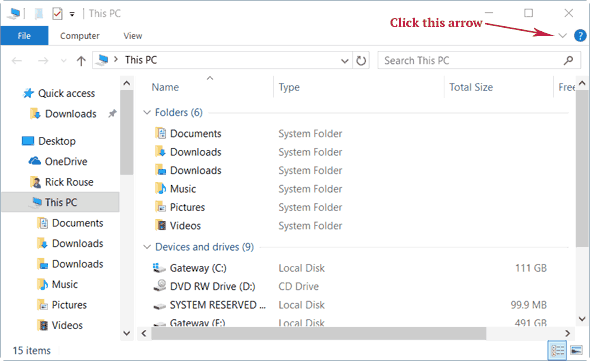 When you click the arrow you should see the Ribbon pop right back into its usual location.
By the way, you can also toggle the Ribbon on and off by pressing the Ctrl+F1 key combination. That's probably what you did (by accident) to hide the Ribbon in the first place.
I hope this helps Jacinda. Good luck!
Like this post? If so, you can get even more tips in my free RicksDailyTips Email Newsletter. Sign up at the bottom of this page!
---
Do you have a tech question of your own for Rick? Click here and send it in!