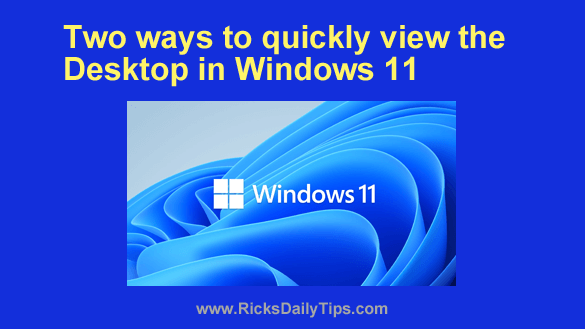 If you've recently started using Windows 11 you've probably noticed that the little "Show Desktop" icon that used to be located beside the Start button is no longer there.
The folks at Microsoft really love making changes just for the sake of making changes, and this one is a real head scratcher.
The thing is, Windows 11 still has a "Show Desktop" icon. They've simply moved it to the far right-hand side of the Taskbar, changed its appearance a bit, and then hidden it by default.
Here's how to use the new "Show Desktop" icon in Windows 11… 
First, we need to make sure the new "Show Dekstop" icon is enabled on your PC:
1 – Click the Start button.
2 – Click the Settings icon (it looks like a "gear" or cog").
3 – Click Personalization.
4 – Scroll down and click Taskbar, then select Taskbar behaviors.
5 – If it isn't checked already, check the box beside "Select the far corner of the Taskbar to show the Desktop".
Now that we know the Show Desktop icon is enabled, this is how you use it:
1 – Move your mouse to the far-right side of the Taskbar until a thin vertical line pops into view. That vertical line is the new "Show Desktop" icon.
2 – Click the Show Desktop icon (the vertical line) to instantly hide all open windows and reveal the Desktop. Click it again and the hidden windows will be restored.
That's how you use your mouse to reveal the Desktop in Windows 11. But what if you prefer using your keyboard instead of the mouse?
Well, you're in luck…
Simply press the Windows+D key combination to reveal the Desktop. The press Windows+D again to return the screen back to its original state.
---