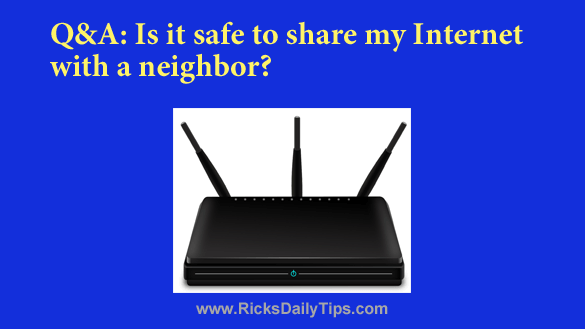 Question from Natasha:  A few days ago a guy rented the vacant apartment next door to mine. He moved in yesterday, and this morning me knocked on my door and introduced himself.
My new neighbor and I talked for a few minutes, and before he left he asked me if I would consider letting him piggyback off of my WiFi connection because he wouldn't be able to afford Internet service of his own for a while.
He also said that if I'd accept his offer he'd buy me a brand new $200 wireless router kit to replace my old router as long as I'd be willing to accept it in lieu of his portion of the monthly Internet charge.
This sounds like a pretty good deal to me because I really do need to upgrade my router, but I was wondering if you know of any reason why I shouldn't accept his offer? 
Rick's answer:  Natasha, I know it has to be pretty tempting when someone offers to buy you a $200 router just for letting them share your WiFi connection, but I would strongly recommend that you refuse.
In fact, I wouldn't touch an offer like this with a 10 foot pole, especially when the person making it is essentially a total stranger.
Consider what could happen if your new neighbor were to get caught downloading child pornography or defrauding people online. When the cops finally got around to tracing his IP address, it would be your door the cops come knocking on instead of his.
While it's true that a search of your computer probably wouldn't turn up any illegal images, you'd still be in for quite a hassle.
But suppose at some point in the past you accidentally clicked a link in an email that ended up downloading several illegal images onto your hard drive without your knowledge (this has been known to happen, more than once).
In that case a search of your hard drive would indeed show that you are in possession of child pornography, and that would put you at serious risk of being convicted for a crime you didn't commit.
There are other security concerns involved with sharing an Internet connection with a stranger as well, but the one I just described is the biggie.
Bottom line: If this person was someone you have known for a long time and trust completely, I'd say jump at the offer. But since you really don't know him at all, I recommend saying "No thanks".
Besides, I have a hard time believing that he can afford to purchase a $200 router for someone else but not be able to pay a monthly Internet charge.
The entire thing just sounds "fishy' to me. Just sayin'.
---