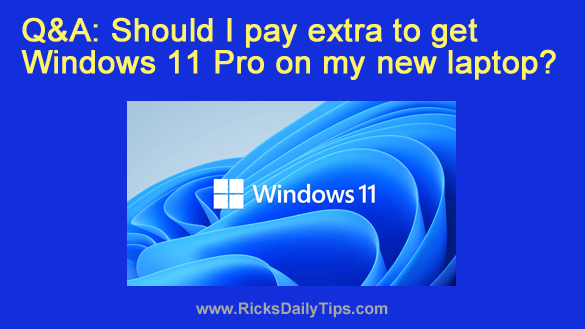 Question from Carlos:  I found a really nice laptop online that I'm planning to buy, but I have a question that I'm hoping you can answer for me before I place the order.
This laptop comes standard with Windows 11 Home edition installed on it, but I can get it with Windows 11 Pro instead for $90 extra.
Do you think paying extra for the Pro upgrade is worth it? I'm not sure I understand the difference between Home and Pro.
If it matters, I'll be using this laptop for Internet stuff and some occasional photo editing (nothing major, just resizing, cropping, adjusting brightness and things like that).
I could really use your advice about this (potential) upgrade. Should I spring for the Pro edition or not?
Rick's answer:  That's a great question, Carlos. I'm glad you asked it before making your choice.
In my humble opinion, there are very few extra features in Windows 11 Pro that would justify paying an extra $90 for a general-purpose laptop that will be used primarily for the things you listed.
The Pro edition of Windows is primarily intended for use in business and corporate environments where many common administrative and maintenance tasks are performed by company IT personnel insted of the users.
While there are a few Pro features that would be nice to have on a home PC (native Bitlocker and Group Policy Editor support, for example), the Home edition has everything most users will ever need, and more.
Based on what you'll be using this laptop for, I really wouldn't recommend paying extra for an upgrade from Windows 11 Home to Windows 11 Pro.
I believe you'd be better off saving that extra $90 to apply to potential future upgrades or repairs.
I hope this helps, Carlos. Good luck!
---