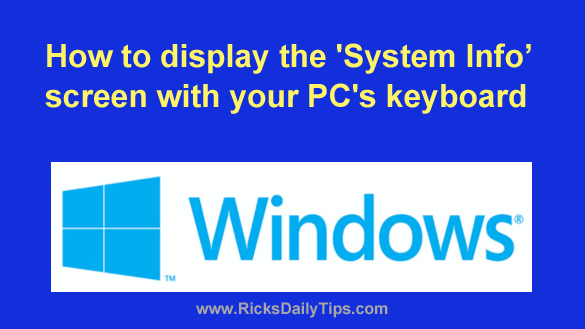 As most long-time Windows users know, the System Information screen lists several important details about your PC's Windows installation and its key hardware components.
Chances are you take a peek at it every now and then.
I'm also sure you probably know that right-clicking on the This PC desktop icon and then clicking Properties will open it as well.
But there is an even faster way to launch this valuable tool, especially if you don't keep the "This PC" icon sitting on your computer's Desktop…
All you have to do is press the Windows+Pause key combination and the System Info screen will pop up right away. Give it a try!
This handy keyboard shortcut works in every currently supported version of Windows.
By the way, you can also launch the System Info screen by typing the System into the Windows "Search" box.
Bonus tip #1: If you have a Mac you can quickly display the System Info screen on your machine as well, but you'll have to use the mouse. This page explains how.
Bonus tip #2: Have a Chromebook? Type this into Chrome's address bar:  chrome://system
---