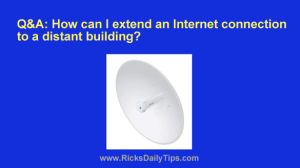 Note: The links in this post are affiliate links.
Question from Travis:  I'm building a cabin on the back side of my parents' ranch that my wife and I will be staying in several times a year when we visit them.
We'll be staying several days on each trip so I'll need to be able to work from the cabin. And it looks like that might be a problem. 
The cabin will be powered by solar (augmented with a generator when needed) and heated with a gas heating system.
There won't be a cable TV/Internet connection because our local cable company won't run a cable in there unless I agree to pay several thousand dollars to cover the cost. And a cellular hotspot isn't an option because there's no cell signal at that location.
It's looking like I might have to have satellite Internet installed but I've heard bad things about it and I'd rather go a different route if I can. Besides, I don't want to pay for satellite Internet every month when I'll only be using it about 35 – 40 days out of the year.
Do you know of any affordable way I can extend the Internet connection from my parents' home router to the cabin?
The distance between the two buildings is about 3/4 of a mile. I can see the cabin from their bedroom window but I know that's way too far (and too expensive) to run any type of cable.
If possible, I'd like the keep the cost of whatever solution I can come up with to about $1,000 or less.
Any help you can give me will be greatly appreciated.
Rick's answer: Travis, there are several possible solutions to your Internet connection dilemma, but virtually all of them would cost you a lot more than $1,000.
However, there's one solution that should cost you about half of that amount.
The Ubiquiti PowerBeam is a pair of dish antennae that will beam your parents' Internet signal over the air directly from their home to your cabin.
These devices can transmit data several miles in both directions so they should work quite well over the relatively short distance between your two structures.
They do require a clean line-of-site between the two antennae, but since you can see the cabin from your parents' house that shouldn't be a problem at all.
As far as cost is concerned, I'm guessing that this setup should cost you somewhere around $500 or so after you purchase a PowerBeam kit and hire someone to help you set it up.
You'll probably be able to handle the physical installation of the antennae yourself but unless you have some experience with computer networking you might need to hire someone to set up the network connections.
If this sounds like something you might want to consider, click here to check out the Ubiquiti PowerBeam kits at Amazon.
I hope this helps, Travis. Good luck!
Update from Travis: This looks like it could be the prefect solution, Rick. I watched some videos on YouTube and I should be able to set everything up myself (I think lol). If not, my nephew can help me with the technical stuff. Thanks for your help!
---