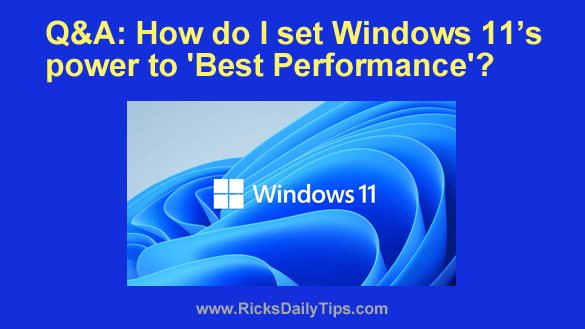 Question from Keegan:  I recently updated my PC from Windows 10 to Windows 11.
With Windows 10 I had the power mode set to "Best Performance", but I can't figure out how to change it in Windows 11.
I could be imagining things, but it seems like Microsoft made a lot of changes to the Windows interface.
How do I set my computer's power setting to "Best Performance" now that Windows 11 is on it? 
Rick's answer: You're not imagining things, Keegan. Microsoft really did make a bunch of changes with the design of Windows 11.
That being said, you can easily set your PC's Power Mode setting to Best performance via the Settings app:
1 – Right-click the Start button, then select Settings from the menu.
2 – In the left-hand pane, click System.
3 – Over on the right, click Power.
3 – Now scroll down and change the "Power mode" setting to Best performance.
4 – Click the X in the upper-right corner to close the "Settings" app.
That's all there is to it. Your Windows 11 PC should now run a bit faster than it did before.
If you prefer following visual instructions, the short video below will show you how to make this change, step-by-step.
Note: You can watch this video at full screen by clicking the little "square" icon in the lower-right corner of the video after it begins playing.
I hope this helps, Keegan. Good luck.
Update from Keegan:  I found it right away with your directions. Thanks.
---