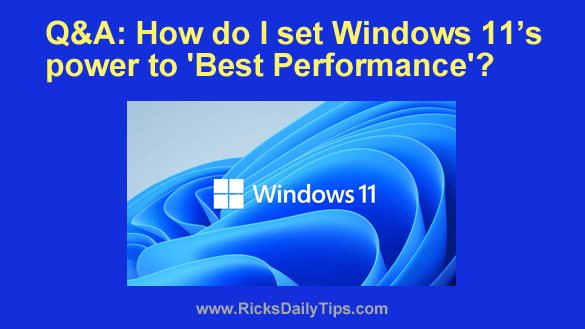 Question from Keegan:  I recently updated my laptop from Windows 10 to Windows 11.
With Windows 10 I had the power mode set to "Best Performance", but I can't figure out how to change it in Windows 11.
I could be imagining things, but it seems like Microsoft made a lot of changes to the Windows interface.
How do I set my laptop's power setting to "Best Performance" now that Windows 11 is on it? 
Rick's answer: You're not imagining things, Keegan. Microsoft really did make a bunch of changes with the design of Windows 11.
That being said, the "Power mode" setting is easily accessible via the battery icon. You just have to right-click on it and then click Power and sleep settings.
You can also set your laptop's "Power mode" setting to Best performance by opening the Settings app via the Start button:
1 – Right-click the Start button, then select Settings from the menu.
2 – Make sure the System tab is open, then click Power & battery in the right-hand column.
3 – Scroll down to the "Power" section and change the "Power mode" setting to Best performance.
4 – Click the X in the upper-right corner to close the "Settings" app.
That's all there is to it. Your laptop should now run a bit faster than it did before.
Just be aware that your battery charge will now run down faster as well whenever you run the laptop on battery power.
I hope this helps, Keegan. Good luck.
Update from Keegan:  I found it right away with your directions. Thanks.
---