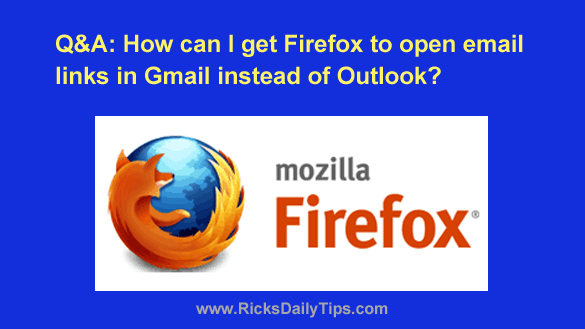 Question from Raymond:  I hope you can help me solve a problem I'm having with email links, Rick. It's absolutely driving me up the wall.
Whenever I click an email link on a web page in Firefox it automatically loads Outlook from my hard drive, and I don't want it to.
I switched my email from Outlook to Gmail several months ago but I can't figure out how to make email links open automatically in Gmail without having to copy the link and paste it into a new blank email.
Can you tell me what I need to do to fix that? 
Rick's answer:  Raymond, Firefox has a setting for choosing the default email handler, but it isn't easily found if you don't know where to look.
This video shows how to make Firefox start opening all email links in Gmail.
Note: You can watch this video at full screen by clicking the little "square" icon in the lower-right corner of the video after it begins playing.
If you prefer following written instructions, here you go:
1 – Open Firefox and click the Menu icon in the top-right corner of the window (it looks like three horizontal lines).
2 – Scroll down and click Settings.
3 – The General options panel should now be displayed. If it isn't, click the General link over in the left-hand column.
4 – Scroll down to the Applications section and click mailto.
5 – Click on the down arrow at the far right of the "mailto" line and then select Use Gmail from the drop-down list.
That's all there is to it. Your Firefox browser should now open any email links you click on in Gmail instead of the Outlook application.
I hope this helps, Raymond. Good luck!
Update from Raymond:  Awesome, Rick! That did the trick!


---