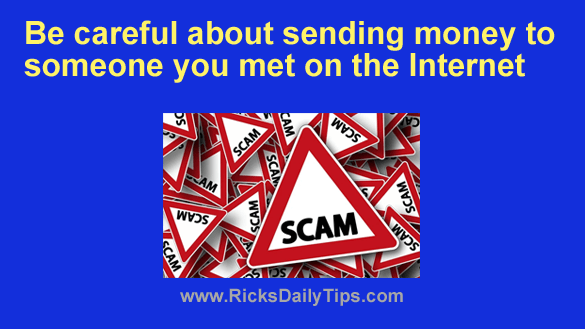 I frequently receive requests for help from people who have been swindled out of large sums of cash by people they met on the Internet.
Unfortunately, in the vast majority of those cases there's really nothing I can do to help.
I received another of those sad requests just last night, and this one upset me even more than usual…
A friend emailed me asking for help on behalf of her sister. A while back her sister began talking to a man she had met online. He claimed to be a pilot helping to fly evacuees out of Afghanistan.
Long story short, they talked back and forth and she ended up falling in love with him. He asked her to marry him and she agreed.
But then he started asking her to send him money for various things (including a plane ticket back to the States) and she sent it to him.
Luckily she eventually figured out that it was all a scam, but not before he had taken her for a grand total of $5,000.
My friend contacted me on her sister's behalf to see if there was any way I could help track down the scammer's true whereabouts, but as usual I was unable to do so.
My reason for telling this story isn't to embarrass the victim or make her feel even worse than she feels already. I'm just hoping this might help prevent some other innocent person from falling for a similar scam and being swindled out of their hard-earned money.
Bottom line:  Always go into situations like this with a clear mind and the skepticism it deserves.
Try your best to think with your mind instead of your heart because once the transfer of cash comes into play the consequences can be severe if things turn out to be different than they originally seemed.
My recommendation: Always think long and hard before agreeing to send money to someone you met via the Internet and/or phone, especially if you have never met them in person.
---