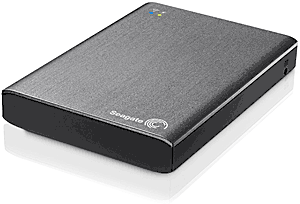 Tablets and smart phones are amazing devices that put the power of modern computers literally in the palm of your hand. But as awesome as these gadgets are, they do have a few very frustrating limitations.
Personally, I find the most annoying limitation of the typical mobile device to be the paltry amount of storage space available.
If you think about it, even the most capacious tablets are limited to far less storage than a typical laptop. Many of these devices can connect via USB to an external hard drive, but that can be rather impractical when you're out and about.
Well, now there's a better solution that gives you the storage capacity of a 2 TB hard drive without having to connect a USB cable or AC power adapter. 
The Seagate Wireless Plus is a light and compact 2 TB hard drive that has its own built-in Wi-Fi network and a battery that lasts a whopping 10 hours per charge! Just carry this little jewel around in your pocket, and up to 8 devices can store files on it and access them at will without having to hook up a cable.
It comes with a free Seagate Media app for Apple iOS, Google Android and Kindle Fire that makes it easy to enjoy tons of stored music and video whenever you go. And as a bonus, you can also connect it to your laptop or desktop PC via either the device's Wi-Fi network or the built-in USB 3.0 port and use it as a regular 2 TB external hard drive.
In short, this amazing device puts an entire terabyte of storage at the disposal of virtually any computing device that you might happen to own.
The Seagate Wireless Plus mobile storage device storage comes with a USB-to-DC cable, a USB 3.0 adapter with detachable USB 3.0 cable, a handy Quick start guide, a compact USB wall charger and a 3-year limited warranty.
Click here to read more about the Seagate Wireless Plus on Amazon.
Bonus tip: Get my latest tips in my weekly RicksDailyTips Email Newsletter. Sign up at the bottom of this page!
Note: The links in this post are affiliate links.