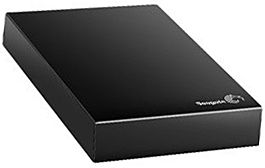 If you've been looking for a great deal on an external USB 3.0 hard drive, here's one for you (while supplies last).
Amazon has a great price on this Seagate 1TB drive (#ad) to a super low price, and they'll even ship it to you for free!
An external USB hard drive makes it easy to back up your computer's internal hard drive.
And if your PC has a small solid state drive, an external hard drive will hold all of your data files such as photos, music, movies, Office documents and more so that you can keep your SSD uncluttered and working flawlessly.
Click here (#ad) to read more about this awesome drive at Amazon!