Several people have forwarded what appear to be email invoices for Norton products and services they supposedly ordered, but didn't.
As you can probably guess, each and every one of those emails have turned out to be scams.
Truth be told, this scam has been making the rounds off and on for several years now, and not always with Norton as the company mentioned.
These fraudulent messages vary a slight bit, but the ones I've seen look something like this: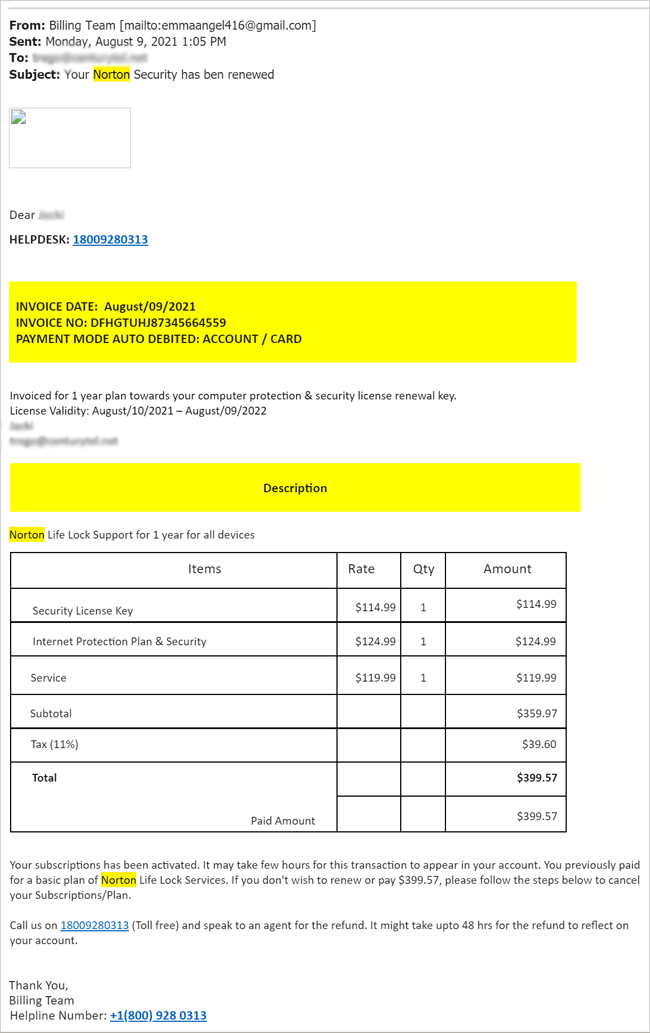 There are several tip-offs in this message that indicate it's a scam:
1 – There is no company name in the "From" field. It simply reads "Billing Team" instead of Norton.
2 – The email was sent from a Gmail address. That alone is iron-clad proof that the email is a scam as the Norton company would never use a free email service like Gmail to send out official emails.
3 – The toll free number they ask you to call IS NOT a Norton phone number. (Just type the number into Google and you'll see that it's actually associated with several different scam entities.)
What the scammers are counting on here is the recipient being confused/naïve enough to think they really do owe the money so they call the 800 number and pay the fee.
And unfortunately, there's no doubt that lots of people do fall for it (they always do).
If you receive an email that looks anything like this you'll know right away that it's a scam.
If you have already received one and took the bait, call your bank immediately to report the fraudulent transaction and ask what you need to do in order to get your money back. Also, be sure to ask them to cancel your card and issue a new one.
Bottom line: No reputable company will send a bill like this through email, especially from a free email address like Gmail.
Always treat anything that lands in your inbox with suspicion until you have verified by other means that it's legitimate.
---