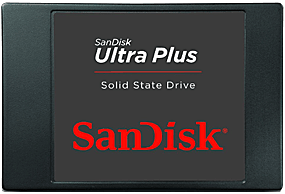 No other upgrade will speed up your computer as effectively as replacing the hard drive with a Solid State Drive (SSD). But there are a couple of caveats with such an upgrade:
1 – When comparing their relative costs per gigabyte, SSDs are considerably more expensive than traditional hard drives.
2 – Most affordable SSDs are quite limited in the amount of data they can store.
Right now you can get a great deal
on the SanDisk Ultra Plus 256 GB SATA 6.0 Gb-s 2.5-Inch SSD that helps mitigate both of the caveats mentioned above. Not only will they sell you one for about $100, they'll also ship it to you for free! 
This 256GB SSD is brand new in the box and it's covered by a 3 year warranty. Since it's a 2.5 inch drive it will directly replace the hard drive in most laptops, and it'll also work in most any desktop PC with an optional 3.5 inch adapter bracket.
If you've been looking for an affordable way to put your computer into overdrive by upgrading to a decent size SSD, this deal is definitely worth considering in my opinion.