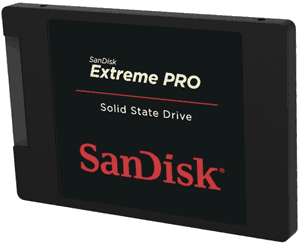 You are probably already aware that a Solid State Drive (SSD) is a LOT faster than even the fastest spinning hard drives, and they are getting cheaper all the time.
But did you know that SSDs vary in speed from model to model?
Well, they do, and they're getting faster all the time. And SandDisk has one of the fastest consumer grade SSD's out there, SanDisk Extreme PRO.
Without a doubt, this is one of the best SSDs I have ever tested. 
This drive really is a speedster, offering read and write speeds at up to 550MB/second and 520MB/second respectively. It will will truly put your computer in the fast lane!
This awesome SSD also supports TRIM and Background Garbage Collection to keep your drive running efficiently as well as S.M.A.R.T. technology to monitor the health of the drive in real time to prevent data loss. What's more, SanDisk has engineered this drive to last.
The Extreme Pro SSD is currently available in three sizes: 240GB, 480GB and 960GB. The prices of these drives are extremely competitive given their supreme advantages over other SATA-based SSDs.
Click here to check out the SanDisk Extreme PRO 240GB SSD and its larger siblings at Amazon.
Note: The links in this post are affiliate links.