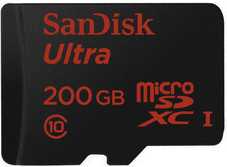 It's a simple fact of modern life that as mobile devices become increasingly more powerful, they also need increasingly more storage capacity.
Flash memory maker SanDisk has been selling an already huge 128GB microSD card (#ad)  for about a year now, but they aren't about to stop there. In fact, the company has just announced a brand new microSD card that almost doubles that amount of storage space. 
Set to begin shipping in the second quarter of this year, the awesome 200GB Ultra microSDXC UHS-I card, Premium Edition will add a whopping 200GB of storage to any device that can handle it. And it'll be fast too, transferring data to the device at a blazing 90MB per second. Note that they said 90 MegaBYTES, not 90 MegaBITs!
At $400 a pop, this massive and speedy new microSD card won't be cheap when it first hits the stores, but prices will surely drop somewhat once the manufacturing ramps up and competitors inevitably come up with their own competing versions.