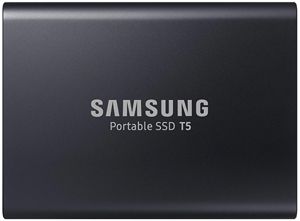 If you're like me, you have probably dreamed about having a portable USB flash drive that can store as much data as a hard drive yet transfer data back and forth at SSD-like speeds.
Up until now, that dream was little more than a fantasy.
Well, you can stop dreaming…
The new (and totally awesome) Samsung T5 Portable 1TB USB 3.1 External SSD (#ad) provides a whopping 1TB of storage, and when plugged into a USB 3.1 port it's so fast that you'll be hard-pressed to tell that you aren't using an internal SSD! 
When Samsung says this is a portable drive, they aren't kidding. It's small enough in fact to easily and comfortably fit in a shirt or pants pocket.
What's more, it only weighs 1 ounce. Yes, you read that right – 1 ounce!
This is without a doubt the most convenient way to transfer, store and carry large amounts of data with you on a physical storage device wherever you might happen to go.
Samsung's T3 portable SSD was also designed with security in mind. It's fast and easy to put a password on the drive, locking down all the data stored on it with strong AES 256 bit encryption.
And now, a couple of issues to consider before buying this drive:
1 –  To be blunt, it isn't cheap when compared to much larger external USB hard drives. But the speed and convenience it provides makes the price a little easier to swallow.
2 – This is a truly awesome external SSD, but to enjoy the full benefits of its amazing speed your computer or mobile device will need to have an open USB 3.1 Gen. 2 Type-C port.
Many newer desktop PCs, laptops and tablets do come equipped with at least one USB 3.1 Type-C port, but most machines in use today do not.
You can always use connect this drive to an older machine with an inexpensive USB 3.1 Type-C to USB 3.0 adapter (#ad), but the data transfer speed will be throttled quite a bit by the much slower USB 3.0 port.
Bottom line: If you want a single device that gives you the storage space of a spinning hard drive, the blazing speed of an SSD and the portability of an over-sized thumb drive, this little gem from Samsung is just what you've been looking for.
Click here (#ad) to read more about the Samsung T5 Portable 1TB USB 3.1 External SSD on Amazon, including well over 1,000 overwhelmingly positive user reviews.
Bonus tip: Want to make sure you never miss one of my tips? Click here to join my Rick's Tech Tips Facebook Group!
---
Want to ask Rick a tech question? Click here and send it in!
If you found this post useful, would you mind helping me out by sharing it? Just click one of the handy social media sharing buttons below.