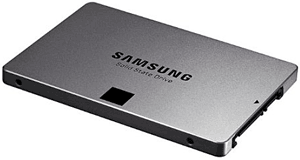 Of all the upgrades you can make to a modern PC, the one that will provide the most bang for the buck, by far, is replacing your existing hard drive with a Solid State Drive (SSD).
If you've never used a computer that has an SSD, you'll be absolutely amazed at how much faster your PC will boot into the operating system and load your programs.
Samsung's 840 EVO-Series 250GB SSD (#ad) 
is one of the best SSD deals on the market. Thanks to its excellent price/performance ratio it is now the number one selling Solid State Drive on Amazon. 
Here are just a few of the reasons why I recommend this drive:
It's made by Samsung, the world's largest manufacturer of computer memory.
It has super fast read and write speeds.
It offers 256 bit hardware based data encryption.
It's a standard 2.5 inch SATA III drive that works perfectly in both laptop and desktop computers.
It comes with a 3 year limited warranty.
The Samsung 840 EVO-Series 250GB SSD has 1,500 customer reviews on Amazon, and over 1,260 of them rate the drive at a full 5 stars! If you're looking for an upgrade that'll speed up your computer like no other, this awesome solid state drive is a great option.
Click here 
(#ad) to read more about the Samsung 840 EVO-Series 250GB Solid State Drive on Amazon, including all of those terrific user reviews.