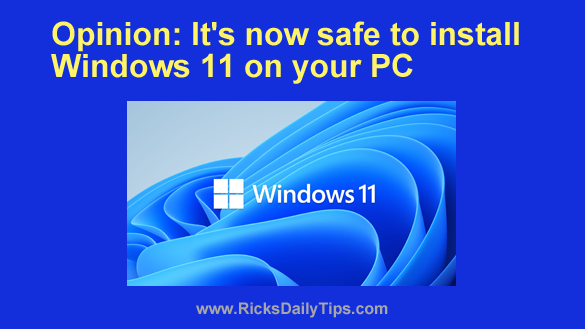 After insisting for years that Windows 10 would be the last version of Windows ever, Microsoft changed their mind and released Windows 11 on October 4 of last year.
As with all new major Windows version releases, I recommended that most folks hold off on updating from Windows 10 until Microsoft had a chance to get all the major bugs worked out of the new version.
Well, I believe that time has come. 
While Windows will never be completely bug-free, I believe all the most serious bugs have now been squashed.
What's more, Windows 11's Windows Update process seems to be a running a lot smoother in recent months. And truth be told, Windows 11's updates overall have been a lot more stable than they ever were with Windows 10.
But that being said, you shouldn't take this as a rock-solid guarantee that updating from Windows 10 to Windows 11 won't cause your system to go belly-up. That's always going to be a possibility when updating from one major Windows version to another.
However, I do believe updating to Windows 11 is as safe right now as it will ever be.
And finally, a note of caution…
While I believe the vast majority of PCs that are capable of running Windows 11 can now be updated without a hitch, there's always a chance that yours will be one of the few exceptions.
For that reason I strongly recommend that you create a fresh backup of your current Windows 10 installation before starting the Windows 11 update procedure.
Like they say, better safe than sorry, especially if your hard drive or SSD contains photos and other files that you really don't want to lose.
Having a backup on hand will make it a lot easier to recover from a catastrophic update failure while also reducing the danger of data loss to something approaching nil.
Of course if there's nothing on your machine that you really can't afford to lose you can simply initiate the update procedure with no worries. If things go sideways you can always install Windows 11 from scratch and be done with it.
Bottom line: If you really want to install Windows 11 on your PC there's really no reason to wait any longer. Go ahead and back up your current Windows installation, then have at it!
---