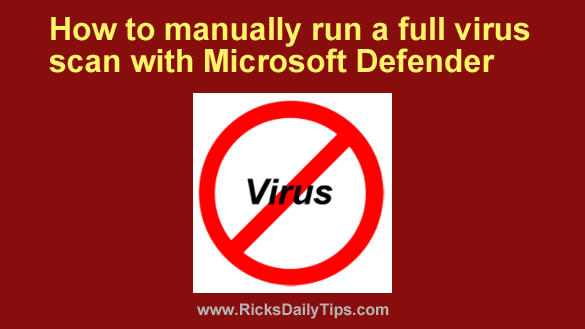 As I explained in this post, both Windows 10 and Windows 11 have a built-in antivirus engine called Microsoft Defender.
And truth be told, it actually does a pretty good job at keeping your PC virus-free.
But like all other antivirus apps, Microsoft Defender isn't perfect. It's always possible that a digital nasty will slip through and infect your system. 
If you have opted to stay with Microsoft Defender instead of installing a third-party antivirus app, you should know that a full manual scan with Microsoft Defender will often find and remove viruses that manage to slip past its full-time antivirus protection.
If your system suddenly starts acting a little sluggish or some weird things start happening for no apparent reason, that would be a great time to run a full manual scan. Here's how:
Important: This post assumes that you are using Microsoft Defender as your full-time antivirus engine.
If you have installed a third-party antivirus app on your PC you'll need to run a full manual scan with that app instead.
If you need assistance with that just send me an email with the name of the antivirus app you're using. I'll get back to you ASAP with instructions.
1 – Click the Start button and start typing the words windows security.
2 – Click on Windows Security after it pops up in the search results.
3 – Click Virus & threat protection.
4 – Click Scan options and select Full scan.
5 – Click the Scan now button.
That's all there is to it. Microsoft Defender will now run a full scan of your PC and remove any nasties that it finds.
Bonus tip: After Microsoft Defender completes its scan I recommend that you run also run a supplemental scan with one (or even more) of these "second-opinion" on-demand malware scanners.
---