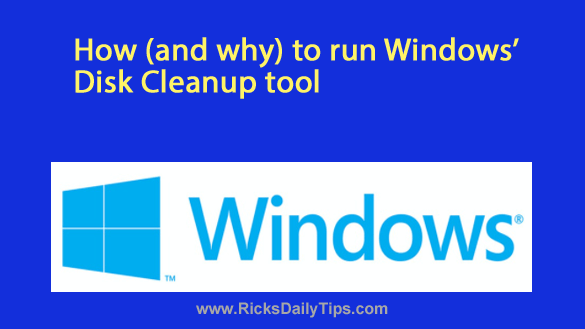 Over time Windows PCs can gather a lot of clutter, and all that junk takes up valuable disk space.
And on rare occasions it can cause the Windows installation itself to slow down and become unstable.
Luckily, both Windows 11 and Windows 10 come with a handy tool called Disk Cleanup that will quickly and easily remove most of the clutter for you. All you have to do is run it. Here's how: 
1 – Click the Start button, then type the words disk cleanup into the Search box.
2 – Click Disk Cleanup after it pops up in the search results.
Note: You should now see a box on the screen listing several different categories of files that you can clean up.
3 – Check all the boxes in the list, then click OK.
4 – Click Delete Files to confirm that you really do want to ditch all the junk.
Disk Cleanup will now work its magic. It'll just take a few seconds.
5 – Repeat the steps above to run Disk Cleanup again, but this time click Clean up system files in step 3 and follow the prompts as you did before.
That's all there is to it. Your Windows PC should now be clear of most of the junk that was on it.
If you prefer following video instructions instead of printed instructions, here's a short video for you to follow along with.
Note: You can watch this video at full screen by clicking the little "square" icon in the lower-right corner of the video after it begins playing.
---