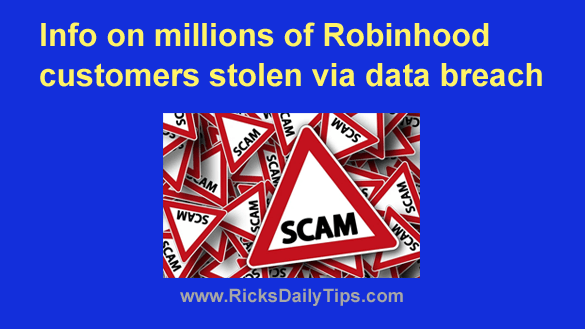 Are you an investor who uses the Robinhood app and/or any of the company's related services?
If so, there's a good chance your name, email address and potentially other sensitive info has been stolen by hackers.
Like so many other breaches, this hack wasn't enabled by a security flaw in Robinhood's software.
According to Robinhood's blog post announcing the breach, a hacker simply used social engineering techniques to trick one of their Customer Support reps into giving him access to the company's Customer Support system.
Of course that level of access made the personal information belonging to Robinhood's millions of customers available to the hackers.
The company is still investigating the breach in order to determine the extent of the damage, but at this point it's believed that the stolen info is limited to the following:
Full names of approximately two million people
Email addresses belonging to approximately five million people
Names, dates of birth, and zip codes belonging to about 310 people
Bear in mind that the stats above apply to the types and amounts of info that's known to be compromised at this time. There's always a chance that the above list could expand as the investigation progresses.
Inexplicably, Robinhood's announcement didn't include any recommendations for customers to follow in regards to protecting their identity and credit.
That's rather concerning given the fact that the hackers are known to have stolen full names, email addresses, dates of birth and zip code information on a least a portion of their customer base.
All that's lacking for successful identity theft are customer social security numbers and mailing addresses, both of which can potentially be stolen elsewhere on the Internet by leveraging the info the hacker already possesses.
If you're a current or past user of Robinhood's services I strongly recommend that you keep a check on your credit report and put a lock on your credit profile for the time being.
Note: You can get a free copy of your credit report by following the steps listed in this post.
Bottom line: This hack affects millions of Robinhood customers. If you're one of them you'll need to make sure you don't fall victim to identity theft.
---