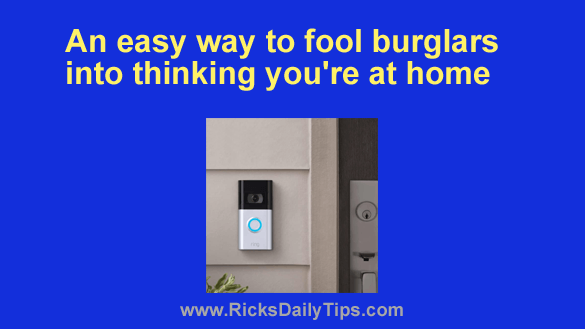 Note: The links in this post are affiliate links.
Did you know that many burglars actually knock on the victim's door or ring their doorbell before breaking into a home?
Well, it's true, and there's a reason why: If no one answers the door, there's a good chance that nobody's home.
But you don't have to fall victim to burglars in this way. Simply install a Ring Wi-Fi Enabled Video Doorbell and you'll be able to answer your door from anywhere in the world! 
With the Ring doorbell installed, whenever someone approaches your door the doorbell's built-in motion detector will alert you via a mobile app on your smart phone or tablet. You'll be able to actually see the person and talk to him/her in real time.
From the visitor's perspective, it'll appear that you're at home even if you're actually sitting on a sunny beach somewhere in the Bahamas.
The Ring Wi-Fi Enabled Video Doorbell is easily installed in minutes by following the simple instructions. If you already have a traditional doorbell, you can install the Ring doorbell in its place and attach it to the existing doorbell wires.
If you don't already have a doorbell, you won't have to run any wires since the Ring doorbell is powered by a rechargeable battery.
Once mounted, this amazing device will securely connect to your home's Wi-Fi network. You'll then be able to answer your door from anywhere in the world via your smart phone.
Here's a short video from the folks at Ring that explains how everything works:
Bottom line: Don't let burglars know you're not at home by not answering the door when they ring the doorbell. Get yourself a Ring doorbell and answer the door even when you're miles away from home!
Bonus tip: If your Ring doorbell ever gets stolen, the folks at Ring will replace it for free!
Click here to read more about the Ring Wi-Fi Enabled Video Doorbell at Amazon.
---