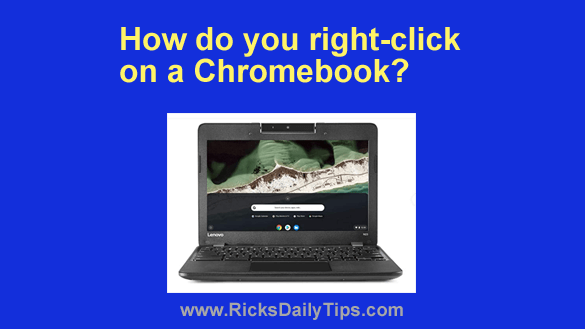 Question from Amanda:  The screen stopped working on my 5 year old Windows laptop so I decided to give a Chromebook a try.
I really like it a lot but for the life of me I can't figure out how to right-click on anything, and that's pretty important.
I know it's probably a simple thing to do, but how in the world do you right-click on a Chromebook? I feel so dumb for even having to ask.
Rick's answer:  Don't feel bad, Amanda. Although Chromebooks are about the simplest laptops around, there are a few things that are a bit quirky about them. Right-clicking is one of them.
Luckily, it's very easy to right-click on a Chromebook. In fact, there are two easy ways to do it:
1 – Tap the touchpad with two fingers at the same time.
2 – Press and hold the Alt key on the keyboard while tapping the touchpad with one finger.
As you can see, right-clicking on a Chromebook is far from intuitive, but it's quite easy once you know how to do it.
By the way, this Google Support page lists several other things you can do with your Chromebook's touchpad.
And now, one final thought…
You can always plug in a mouse if you hate using a touchpad. Personally, I prefer using a mouse when it's practical to do so.
---