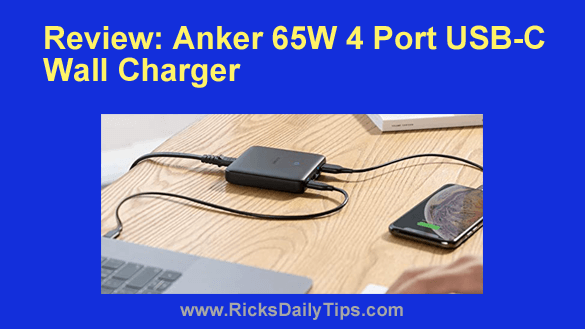 Note: The links in this post are affiliate links.
A while back I had an opportunity to check out and review an awesome 4 port USB compact wall charger from Anker.
I was so impressed with that particular charger that I decided to check this latest model as well.
Just as I expected, Anker's 65W 4-Port 4 Port USB-C Wall Charger is much like their USB Wall Charger, and and that's a great thing since it also turned out to be one of the best chargers I have ever used.
This charger provides plenty of power for charging up to four mobile devices at the same time.
The device will charge your tablets, smart phones, MP3 players, Bluetooth speakers and even a laptop that has a USB-C charging port.
The relatively compact, attractive case is well constructed. It is quite sturdy, and it easily and lays down flat on your desk.
It also comes with an adhesive strip you can use to attach it to the underside of a desk or shelf.
One USB-C and three USB Type A ports are provided for maximum compatibility with various brands and types of devices.
Just connect this little jewel to a wall outlet with the included AC power cord and then plug in your devices for fast, efficient charging.
As with most multi-device USB chargers, this one doesn't include any USB charging cables. But since the vast majority of USB charged devices come with their own cables, this really shouldn't be an issue.
I tested this unit by charging two smart phones and two 10″ tablets at the same time, all of which had fairly low batteries when they were plugged in.
The phones and one of the tablets reached full charge in about the same amount of time as it takes when plugged into my computer's USB 3.0 ports. The other tablet actually charged in less time than it usually takes when plugged into the wall charger that came with it.
Over all, I really like this Anker charger even more than I liked its excellent predecessor. It's easy to use, works well, and doesn't get hot even when working under a heavy load.
I plan to keep this little gem sitting right on my office desk from now on. I simply can't think of a better, more efficient way to keep all of my devices charged up and ready to go than by simply plugging them into this great little charger from Anker.
Bottom line: If you're looking for a high quality multi-port USB-C desktop charger that won't take up a lot of room on your desk or work area, I don't think you'll be able to beat this one at any price.
Click here to read more about this Anker 65W 4 Port USB-C Wall Charger at Amazon.
---