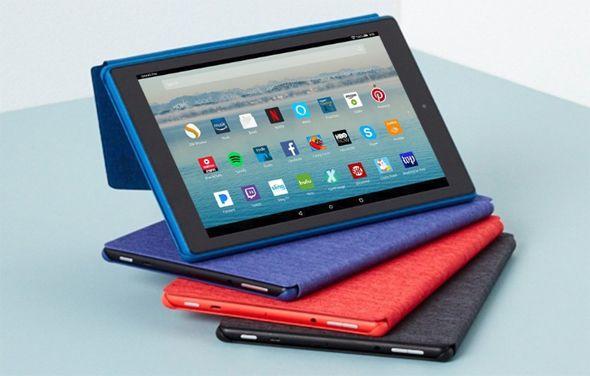 I've been a huge fan of Amazon's growing line of Fire tablets since day one. I truly believe these are the best tablets you can buy for the same money.
I recently had the opportunity to check out the new Fire HD 10 Tablet with Alexa Hands-Free , and in my opinion it's one of the best tablet values on the market.
Although it only costs about half the price of the cheapest iPad model, this new tablet from Amazon offers as much or more in terms of features and utility.
Just take a look at the hardware: 
10.1" 1920 x 1200 touchscreen with 1080p Full HD video playback
MediaTek Quad-Core CPU
2 GB RAM
32 GB or 64 GB internal storage (your choice depending on the model)
microSD card slot for adding up to 256 GB of additional storage
Dual-band 802.11ac Wi-Fi
Bluetooth
2 micro-B USB connector ports
Integrated dual stereo speakers with Dolby Atmos audio
Front and rear facing cameras
Up to 10 hour battery life
Available in Black, Blue or Red (your choice)
1 year warranty
Pretty impressive for a tablet that costs have the price of the cheapest iPad, right?
Even more impressive is all the things you can do with it. Of course there are all the normal tablet functions such as taking photos and using Facebook, Instagram and other websites, but it also does so much more.
You'll be able to choose from the thousands of great apps that are available in the Amazon App Store. You'll also have access to tons of streaming music and video via your Amazon Prime membership.
What's more, this tablet supports "Alexa Hands-Free Mode" which allows you to pause videos, play music, open apps and perform other tasks with simple voice commands. Just tell the tablet what you want it to do, and it does it!
Now I need to explain something very important…
When it's in sleep mode this tablet displays "Special Offers" from Amazon on special screensavers. These special offers are basically advertisements for products and services from Amazon.
You can opt to turn these special offers off by agreeing to pay an extra one-time fee. In a nutshell, the special offers are what make this tablet so affordable. Agreeing to view these offers when your Fire tablet is sleeping allows you to purchase an awesome tablet at way below its actual value.
Amazon allows you to turn them off if you agree to pay the extra fee to make up for what Amazon knocked off of the original purchase price in exchange for your agreement to view the special offers.
My recommendation is to allow the screensaver to keep displaying the offers when the tablet is sleeping. You'll only see them when you aren't actually using the tablet and you'll save the upgrade fee.
Bottom line: I've tested a lot of tablets in recent years, and I've never found one I like better than this little gem from Amazon – even at twice the price.
Click here to read more about the Fire HD 10 Tablet with Alexa Hands-Free at Amazon, including over 43,000 overwhelmingly positive user reviews.
Note: The links in this post are affiliate links.
---
Like this post? If so, I invite you to share it on social media. Just click one the handy buttons below.