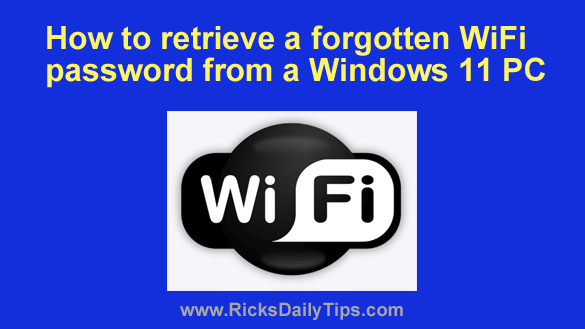 Here's a quick question for you…
If you had to connect a new computer or other device to your WiFi network, would you be able to enter the network's password (aka network security key)?
If you're like most folks, the answer could well be no. 
If you have your devices set to connect to your WiFi network automatically there's a good chance that you have forgotten the network security key (aka WiFi password).
And as you probably know, that could be a big problem the next time you have to replace your computer, phone or some other device and connect the new device to your network.
A while back I wrote this post explaining how to retrieve a forgotten WiFi password from a machine running either Windows 8.1 or Windows 10.
Luckily, you can do it with Windows 11 as well, but the process has changed a bit. This short video shows how to do it.
Note: You can watch this video at full screen by clicking the little "square" icon in the lower-right corner of the video after it begins playing.
If you prefer following written instructions, here you go:
1 – Make sure your computer is connected to the WiFi network that you need to retrieve the password for.
2 – Right-click on the Start button, then click Settings.
3 – In the left-hand pane, click Network & internet.
4 – In the right-hand pane, scroll down and click Advanced network settings.
5 – Scroll down and click More network adapter options. You should now see the "Network Connections" window open on the screen.
6 – Right-click on the active WiFi connection and select Status from the drop-down menu.
Note: The active WiFi connection will be the connection that's labeled with the name of your WiFi network. It will also have a green signal strength indicator.
7 – Click the Wireless Properties button.
8 – Select the Security tab.
9 – Check the box beside "Show characters".
10 – Write down the string of characters displayed in the "Network security key" box. Those characters are your WiFi network's password/network security key.
That's all there is to it. You now have the password for your WiFi network written down. I recommend you save that paper in a fireproof and waterproof lockbox so you'll have it the next time you need it.
---