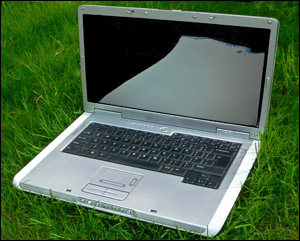 Question from Troy W.:  I have a three year old laptop that has a broken screen. It's smashed pretty good and it won't light up at all.
I checked and it would cost more to have the screen replaced than the laptop is really worth.
I plan to just junk it, but I have a lot of files on there that I'd really like to get off of it first.
Do you think I'll be able to save my files, and if so, how do I do it?
Rick's answer:  Troy, I think you should indeed be able to save the files from your damaged laptop. Here are a few options for you to consider:
1 – Even though the screen is unusable, the laptop itself might still boot up just fine. If it appears to start up after pressing the power button you can try connecting an external monitor via the external video port. If all goes well you can simply run the machine with the external monitor long enough to copy the files from the hard drive.
2 – You can remove the hard drive and connect it to another PC via an inexpensive external USB hard drive adapter.
3 – You can remove the hard drive, then slip it inside an external USB hard drive enclosure and leave it connected to your computer as an external drive.
If you decide to go with the first option, be sure to either remove the hard drive from the laptop before disposing of it. That way no one will be able to steal your data from it.
I hope this helps Troy. Good luck!
Bonus tip: I'm often asked to recommend a good, yet inexpensive external USB hard drive enclosure. This is the one I always recommend.
Note: The links in this post are affiliate links.
---
Do you have a tech question of your own for Rick? Click here and send it in!
If you think your friends would like this post, I'd love you to share it! Thanks a bunch!