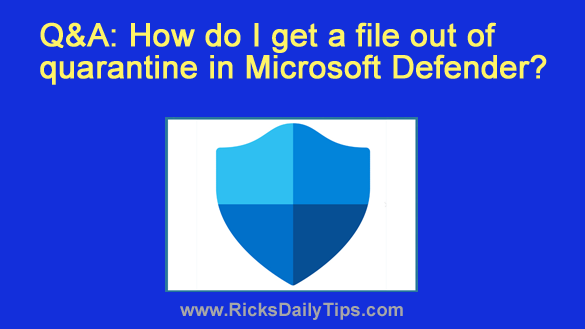 Question from Rheta:  For some reason Microsoft Defender quarantined one of my important work files on my Windows 11 laptop, apparently thinking it's a virus (it isn't).
I really need to get that file back. Can you tell me how to "unquarantine" it? 
Rick's answer:  Rheta, based upon my personal experiences with Microsoft Defender, I believe "false positives" are quite rare. But that being said, they do occur as you have unfortunately found out.
Luckily, it isn't all that difficult to get a a file out of quarantine with Microsoft Defender. Here's how:
1 – Right-click on the Start button, then select Settings from the menu.
2 – In the left-hand pane, click Privacy & Security.
3 – In the right-hand pane, click Windows Security, then select Virus & Threat Protection.
4 – Click the Protection history link (you'll find it below the "Quick scan" button).
5 – Click the gray Filters button and select Quarantined Items from the drop-down menu.
6 – Locate the file you need to restore in the list of quarantined items and click on it.
7 – Select the Restore option.
If you prefer following visual instructions,  the short video below shows how to unquarantine a file, step-by-step.
Note: You can watch this video at full screen by clicking the little "square" icon in the lower-right corner of the video after it begins playing.
That's all there is to it. The previously quarantined file should now be out of quarantine and right back in the folder it was originally in.
---