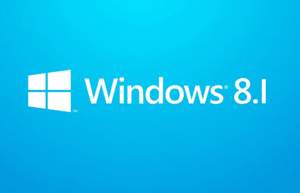 Question from Aaron:  I need your help Rick. I've been installing a bunch of free software and it appears that something I've installed has removed the "Power" icon from the Windows 8.1 Start Screen on my computer.
I tried using System Restore to get the "Power" icon back onto the Start Screen, but that didn't work. Can you tell me how to do it?
Rick's answer:  Yes Aaron, I can tell tell you how to restore your Start Screen's Power icon, but I must first give you my semi-standard RicksDailyTips Disclaimer:
Important: The steps listed below involve editing the Windows Registry, a procedure that can possibly result in system instability, or even render the Windows operating system incapable of booting up should something go wrong.
Therefore, if you decide to follow the directions in this post, you do so at your own risk. You also agree that if the earth begins spinning backwards, your dog starts barking menu choices in French, or your Windows installation gets hopelessly messed up, it won't be the fault of your humble tech blogger.
If you agree with everything I said in the preceding paragraph, feel free to follow the instructions below to restore the "Power" icon to your Windows 8.1 Start Screen:
1 – Boot your PC into Windows. If you aren't there already, switch over to the Start Screen.
2 – Press the Windows+R key combination to open a "Run" dialog box.
3 – Type regedit into the "Run" box, then press the Enter key. The Registry Editor utility should open. (If prompted to do so, click Yes to allow the Registry Editor to launch.)
4 – Create a backup of the Registry by clicking File>Export, then giving the backup a name and saving it to the Desktop. If something goes wrong you might be able to restore the Registry from this backup.
5 – Navigate to this Registry key:
HKEY_CURRENT_USER\Software\Microsoft\Windows\
CurrentVersion\ImmersiveShell\Launcher
If there is no key under ImmersiveShell called Launcher, create one by right-clicking on ImmersiveShell, then clicking New>Key and naming the new key Launcher. Now, click on Launcher to select it.
6 – If you see a key in the left-hand pane of the Registry Editor with the name Launcher_ShowPowerButtonOnStartScreen, skip to step 9. If not, continue with step 7.
7 – Right-click on Launcher and select New>DWORD (32-bit) value.
8 – Name the new DWORD Launcher_ShowPowerButtonOnStartScreen.
9 – Right-click on Launcher_ShowPowerButtonOnStartScreen, then select Modify. Change the value from 0 to 1.
10 – Click File>Exit to close the Registry Editor utility.

11 – Restart the PC. After Windows has booted back up, you should see the "Power" icon on the Start Screen. It should look something like the image at right.
That's all there is to it Aaron. Good luck!
---
Do you have a tech question of your own for Rick? Click here and send it in!