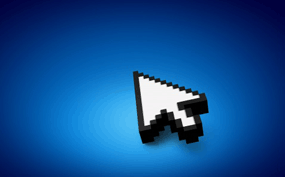 Question from Melissa B.:  I bought a new Acer laptop about a month ago, and now I can't see the mouse pointer. It was working fine till my 4 year old started pressing keys and then all of a sudden it was gone.
I hope you can tell me how to restore my missing mouse pointer. If you can I'll be forever in your debt! LOL
Rick's answer:  Accidentally hiding the mouse cursor is an easy thing to do Melissa, but it's usually just a simple setting change that should be reversed after a couple of key presses.
Try pressing the Fn+F7 key combination and see if that helps. Let me know if it doesn't and we'll try something else.
Update from Melissa:  Thanks Rick, it worked like a charm!!
---
Do you have a tech question of your own for Rick? Click here and send it in!
And now for a bonus tip: Be sure to sign up for my free RicksDailyTips Email Newsletter at the bottom of this page!
Want to help spread the word about my tips? Just click one of the handy social media sharing buttons below: