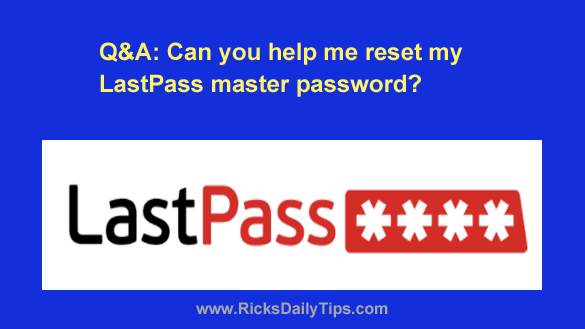 Question from Dyan:  I'm in a world of hurt Rick and I desperately need your help!
I've forgotten the master password for my LastPass app and now I can't log in to several of my online accounts.
I haven't had to log into LastPass in quite a while and now that I need to I can't remember the password.
I've managed to reset some of my passwords on the companies' websites but there are a few that I can't get to reset. And of course those are my most important accounts.
Can you help me?
I tried resetting my password by entering my email addresses on the LastPass Recover Account page but no email address I enter works. It always says that email address doesn't have a LastPass account associated with it.
I can't even get my password hint because they keep wanting to send it to an mail address which they keep saying doesn't have a LastPass account.
I chatted with LastPass customer support for almost an hour and they gave me several things to try, but nothing worked. I asked them to reset my master password for me and they said they can't. They gave me the link to this page and told me to try every option on there, but nothing worked.
At the bottom of that page is says if nothing works I'll have to reset my account, which will delete all of my stored passwords.
I'm heartbroken because I really need to log in to my bank account, and I can't.
I called the bank and they said they could reset the password for me but I'll have to go to a branch in person and show them my ID. That would be a seven hour drive because I recently moved out of state and my bank doesn't have a branch here.
You're my last hope. If you can't help me I'll have no choice but to take a day off work and drive down there.
Do you know of ANY way that I can reset my LastPass master password?
Rick's answer: I'm so sorry you're having to deal with this, Dyan. I know from personal experience how bad it feels to get locked out of your own bank account.
I really wish I could help you, but it appears that you've already tried all the recovery options that LastPass makes available to their users, including contacting their Customer Service department for assistance.
As painful as this situation is for you, it's understandable why LastPass won't reset a customer's master password for them.
Since you're unable to prove your identity by entering your registered email address, there's no way for them to confirm that you're the real account holder.
Therefore they can't be sure that they wouldn't be handing over access to your account (along with ALL of your stored passwords) to a scammer/hacker – and that would be worse than bad.
Bottom line: As much as I would like to, there's simply nothing I can do or recommend that you try in order to reset the master password to your LastPass account since you have already exhausted all the available options.
I know it's zero consolation at this point, but this is just one of the reasons why I strongly recommend that that folks never use a password manager app. This post lists several other reasons.
Again, I am truly sorry, Dyan.
---
Cick here to ask me a tech question.