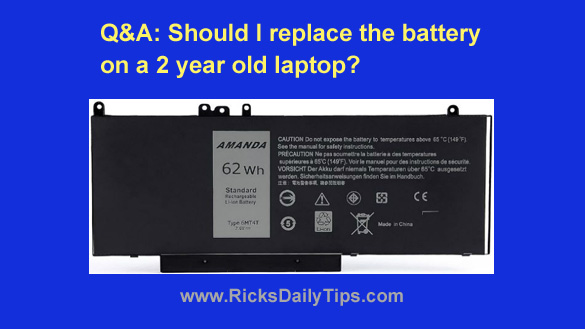 Note: The links in this post are affiliate links.
Question from Brenda G.:  I have a two and a half year old Dell Latitude E5570 laptop that no longer works unless it's plugged into a wall outlet.
I took it to the computer shop here in town and they said the battery is bad but they can order a replacement battery and install it for me for $160.
I really like this laptop but I don't want to spend that much money for a battery if you don't think it's a wise use of the money.
My question is do you think I should have the guys at the computer shop order a battery and install it for me or would it make more sense to just apply that $160 towards a new laptop?
I really respect your opinion and I'll take your advice regardless of which way you recommend I go.
Rick's answer:  Brenda, the short answer to your question is no. I really don't think it's worth spending $160 to have a new battery installed in your Dell Latitude E5570 laptop.
But the good news is you don't have to.
You can purchase a quality third-party after-market battery for this particular machine for a lot less than $160, and even though you'll have to remove the back cover to replace the battery you can actually do it yourself and save the labor charge (more on that later).
Right now you can get  this replacement battery from Amazon for around 60 bucks – and they'll ship it to you for free.
While it's true that third-party laptop batteries aren't "name brand", they typically work just fine these days, especially if you're careful about choosing one with lots of good user reviews.
And for a two and a half year old laptop that you're considering replacing to begin with, I don't really see a downside even if it ends up not lasting quite as long as a genuine Dell battery would.
What's more, it's extremely likely that your local computer shop would end up replacing your laptop's battery with a third-party after-market battery instead of a genuine Dell battery anyway.
As I mentioned earlier, you can easily install the new replacement battery yourself.
You'll need to remove the laptop's back cover to access the old battery and swap it out for the new one, but it's a very straight-forward process.
Here's a short video that shows exactly how to remove both the cover and the old battery. All you'll have to do is reverse the procedure to install the new battery and replace the back cover.
Once the new battery is installed you can start using the laptop right away while the battery is charging.
Contrary to what other's might say, you do not have to wait for the battery to fully charge before you turn the machine on and start using it.
Bottom line: You can easily purchase this replacement battery for your laptop and install it yourself, saving about $100 in the process!
Update from Brenda:  That helps a lot, Rick. I just ordered it. Thanks so much!
Bonus tip #1:  This post explains why I always recommend buying laptop batteries from Amazon.
Bonus tip #2: Want to make sure you never miss one of my tips? It's easy! Just…
Click here to sign up for my free Rick's Daily Tips Email Newsletter!
---
Would you like to ask Rick a tech question? If so, click here and send it in!
If you found this post useful, would you mind helping me out by sharing it? Just click one of the handy social media sharing buttons below. Thanks a bunch!
sharing buttons below.