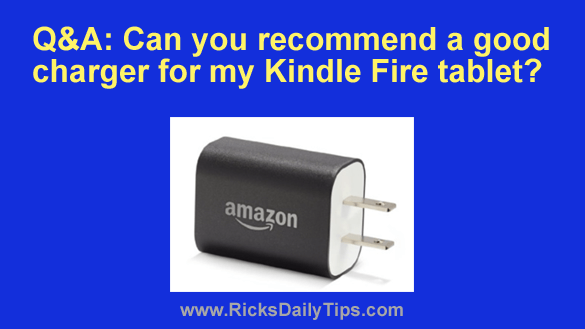 Note: The links in this post are affiliate links.
Question from Rose W.:  I've somehow managed to lose the charger to my Kindle Fire HD 8.9″ tablet and I need to buy a new one.
I know that you test and review chargers all the time and I was wondering if you could recommend a good charger to replace the one I lost? 
I really love my Kindle tablet and I don't want to damage it by using the wrong charger.
Rick's answer:  I know what you mean Rose. The Kindle Fire HD is an awesome tablet and I wouldn't want to see yours get damaged either.
To answer your question, most any decent charger with a micro-USB connection will work with your tablet, but for the best results I recommend that you purchase this Amazon 9W USB Official OEM Charger and Power Adapter directly from Amazon.
This charger was designed specifically to work with Kindle, Kindle Fire and Kindle Fire HD devices so you can use it with your tablet with no worries whatsoever.
Be aware that this charger doesn't come with a charging cable so you might need to order one of those as well.
Bottom line: While most any high-quality charger will work with your tablet, I recommend going with the one that's made specifically for your device.
I hope this helps, Rose. Good luck!
Update from Rose:  Thanks for the suggestion, Rick. It makes perfect sense so I just ordered one.
---