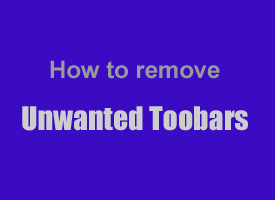 Question from Luella S.: Hi Rick. I made a big mistake and downloaded a free game onto my PC. After I installed it my computer started running really slow and my Internet Explorer had 7 toolbars attached to it!
I was able to remove 4 of the toolbars via the "Remove a program" thingy, but the rest don't even show up in there. I tried to do a System Restore, but there were no Restore Points! Can you please, please help?
Rick's answer: Hi Luella. I'm so sorry this happened to you, but unfortunately it happens quite often. Free downloads are tempting to say the least, and I download and test several of them every week. As a matter of fact, many of my tips involve downloading great free programs that I have either used for years or recently learned about and tested.
That being said, free downloads can also be a huge source of trouble and frustration if the wrong ones are chosen or the good ones are installed without paying attention to the dialog boxes while installing the programs. Free games seem to be the worst offenders, and I never recommend ANY of them. Why? Because in addition to unwanted toolbars and other junkware, free games often come with viruses and trojans attached as well.
What's more, as in your case, the very worst offenders either disable the System Restore utility altogether or delete your Restore Points so that you can't do a System Restore to get your PC back to the state it was in before all the garbage was installed.
But even many good, highly beneficial free programs install "extras" as a way of making that "free" download earn the maker a bit of cash. These extras are usually presented as options, but you have to opt OUT of installing them instead of opting IN. This means if you aren't paying attention and just accept all the defaults during the installation process, the add-ons will be installed automatically and you won't even know it until after the fact.
I guess the point of all this rambling boils down to two pieces of advice:
1 – I recommend that you never, ever install a free game.
2 – I also recommend that you read everything on every screen when a program is being installed on your computer. Scour every dialog box looking for unwanted add-ons that will be installed automatically unless you specifically uncheck the boxes that give the installer permission to install them. If an add-on is going to be installed and you cannot opt out (there is no box to uncheck), I recommend aborting the installation process and simply not using that program.
And now, all of that being said, here are the steps I use to remove unwanted toolbars and hidden malware from a PC:
1 – Boot the PC into Safe Mode with Networking. This post will tell you how.
2 – Check for and remove any viruses and other malware from your computer. This post will tell you how.
3 – Use the Remove a program utility in the Control Panel to remove any toolbars and other unwanted software that shows up there.
4 – Use the Junkware Removal Tool to get rid of any toolbars that are left.
I hope this helps Luella. Good luck!
---
Do you have a tech question of your own for Rick? Click here and send it in!